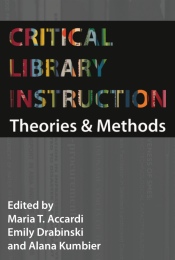 LSJ's latest piece is a book review by Seth Kershner (MLIS candidate, Simmons) of Critical Library Instruction, edited by Maria T. Accardi, Emily Drabinksi, and Alana Kumbier. The book critiques and offers alternatives to the trends of one-shot instruction and outcomes assessment in library instruction, particularly in academic libraries.
Here's an excerpt of the review :
Outcomes and standards are all well and good. But as library students on the verge of becoming junior librarians, we should be aware of how the current trends are being challenged. Some of the more sustained criticism in recent years has come from those who are in favor of a teaching model that encourages critical engagement with information systems, rather than one that merely transfers the skills needed to use information systems. For Elmborg (2006), this means library instructors must stop teaching the "library-as-subject" and instead become "specialists in coaching intellectual growth and critical development" (p. 198).
Your comments are welcome! Leave them on the journal site or right here on the blog.
–Claire